Download now
Machine Learning - the Future of Machine Vision

Reading this e-book will give you:
- An introduction to the latest trends in Machine Vision
- Highlights on Machine learning developments
- Why inspection with machine learning is so effective
- A sneak-peak into the future of machine vision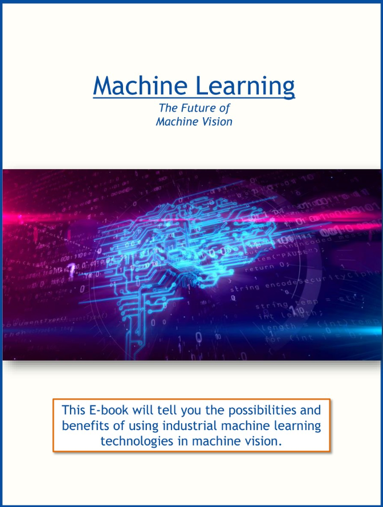 About machine learning
The word "Machine learning" is used when a machine imitates "cognitive" functions, often associated with humans such as "learning" or "problem-solving". Machine learning is often implemented via a (convolutional) neural network and can be supervised or unsupervised. Supervised learning can provide solid results and is often considered the best approach, but it requires many annotated training images. Annotation is time-consuming and it can be difficult to get images upfront in a machine vision application.
This machine learning e-book goes through the possibilities of using machine learning in production for inspection tasks.

JLI vision recently introduced "Hybrid Vision" which we consider to be a combination of:
Machine learning
Traditional machine vision
Craftsmanship
Structural applications such as measuring dimensions and depth can be performed by traditional machine vision. They are easy to test and potentially expand with functionality. Hybrid vision is the perfect solution for "aesthetic" applications.
Aesthetic applications consist of ensuring that the finished product fulfills the end-users or consumers' expectations. Typical defects could be scratches, holes, or color deviations. As opposed to structural applications it can be difficult to define objective requirement specifications. In practice, good and bad samples are collected and used as references in manual inspection. Previously aesthetic applications were often left unsolved because of the shortcomings of traditional machine vision, but with hybrid vision it is in some cases possible.
Fill in the form
- and we'll send you the e-book right away!